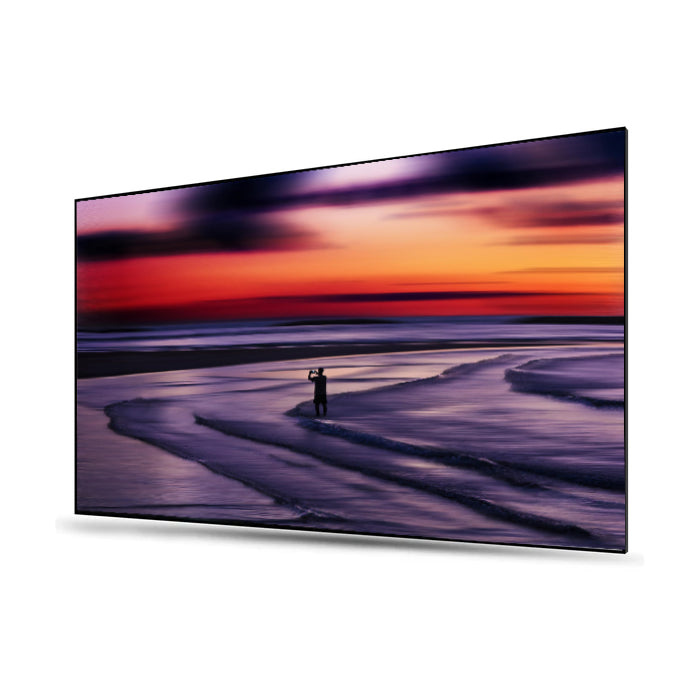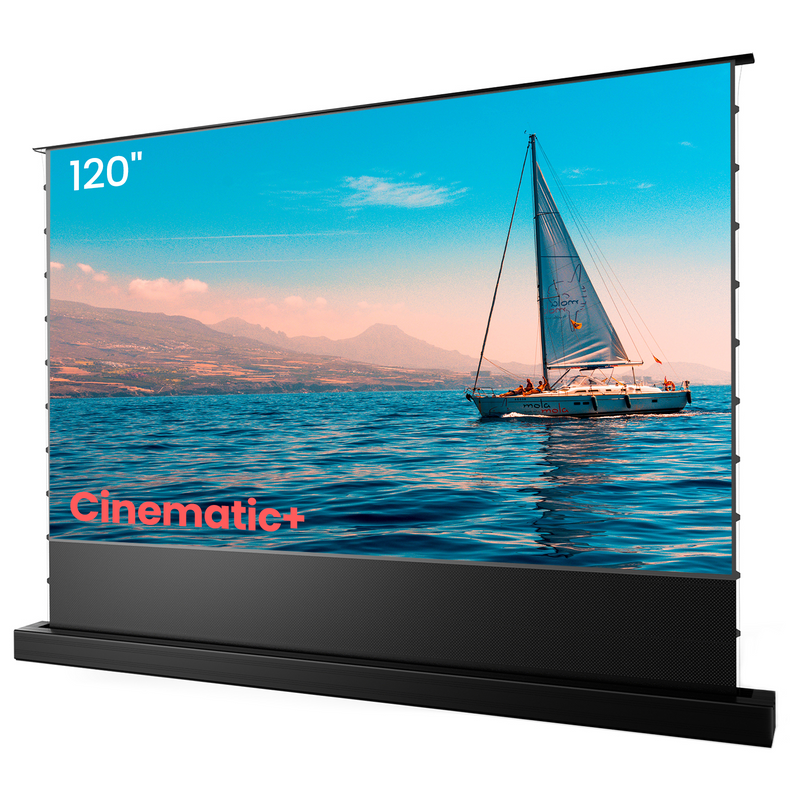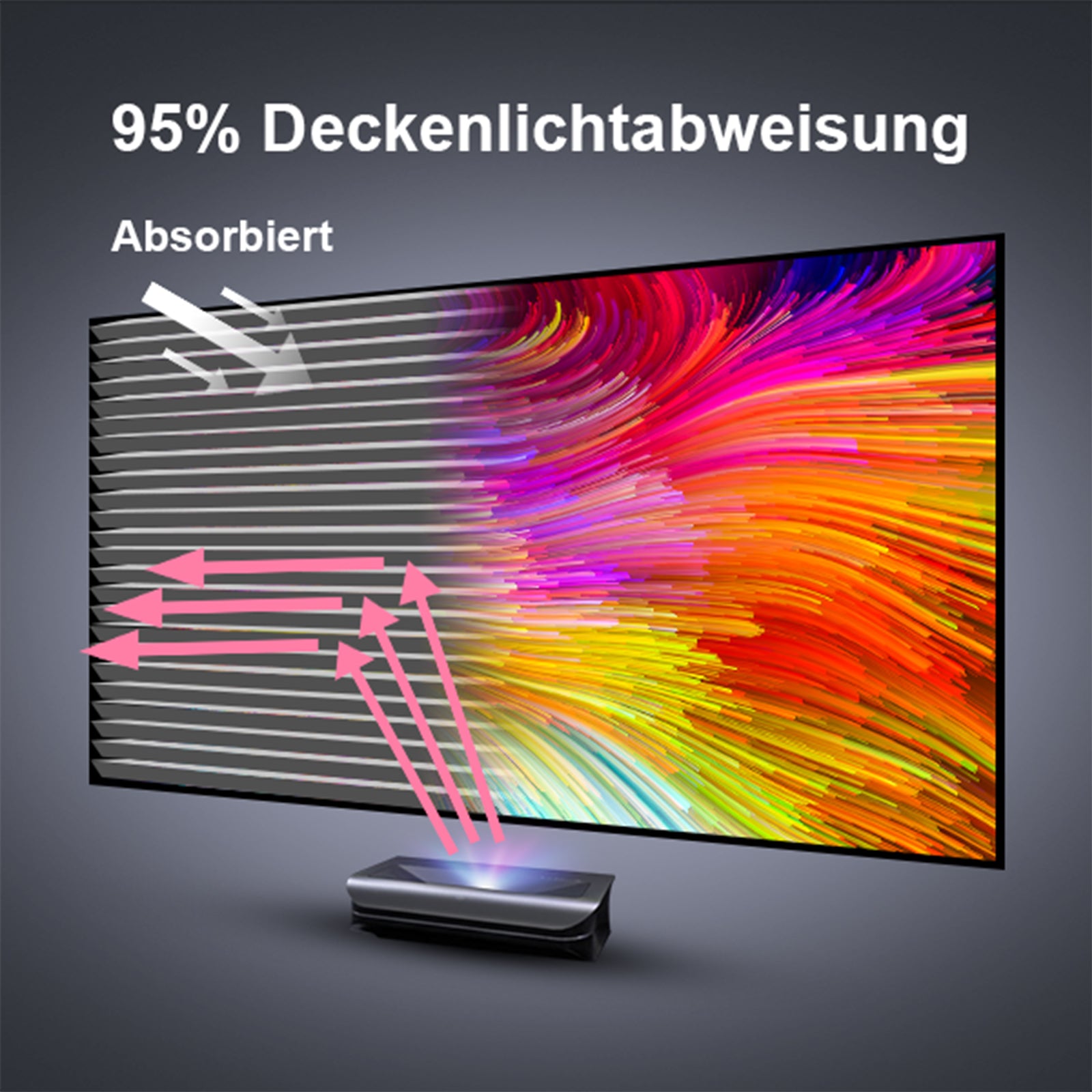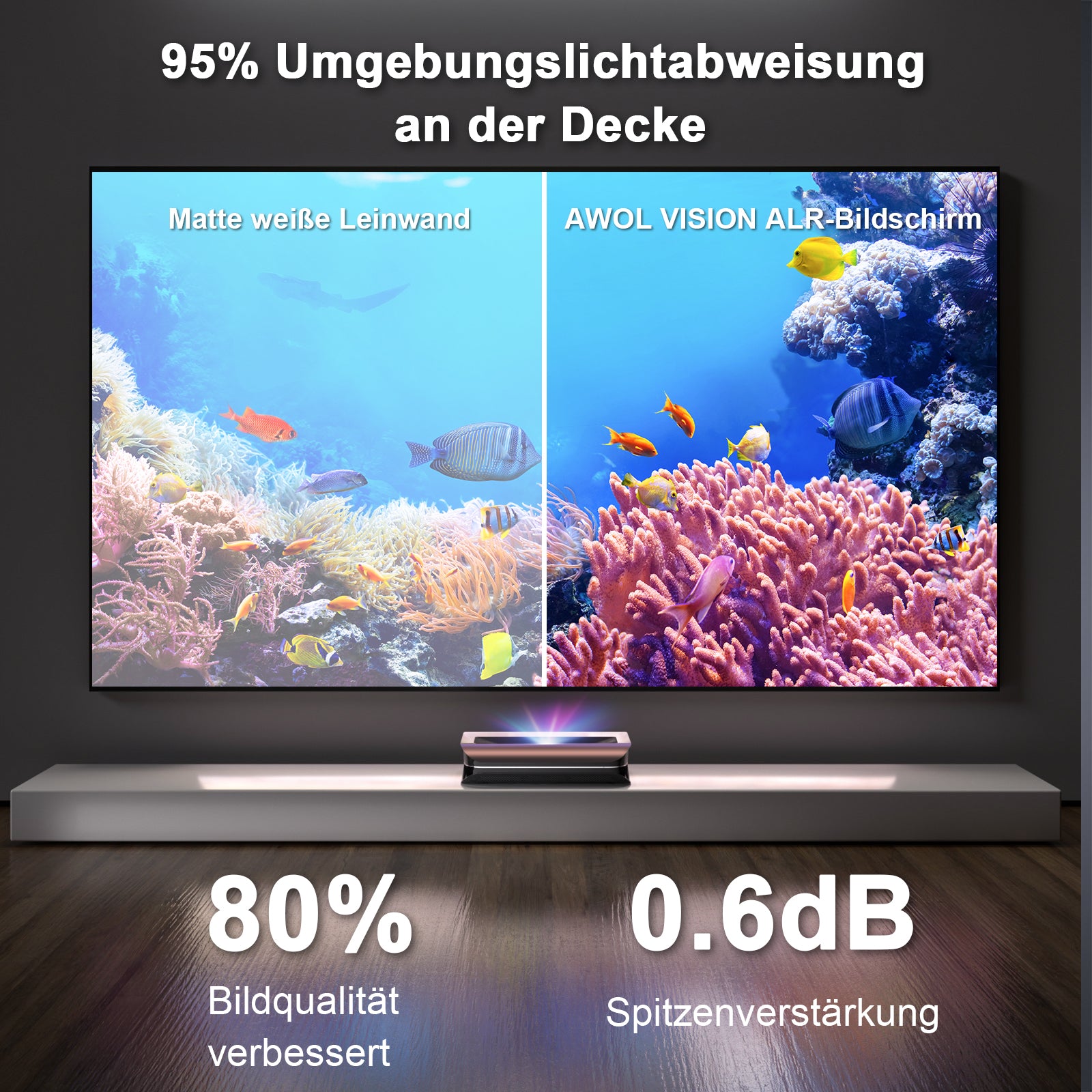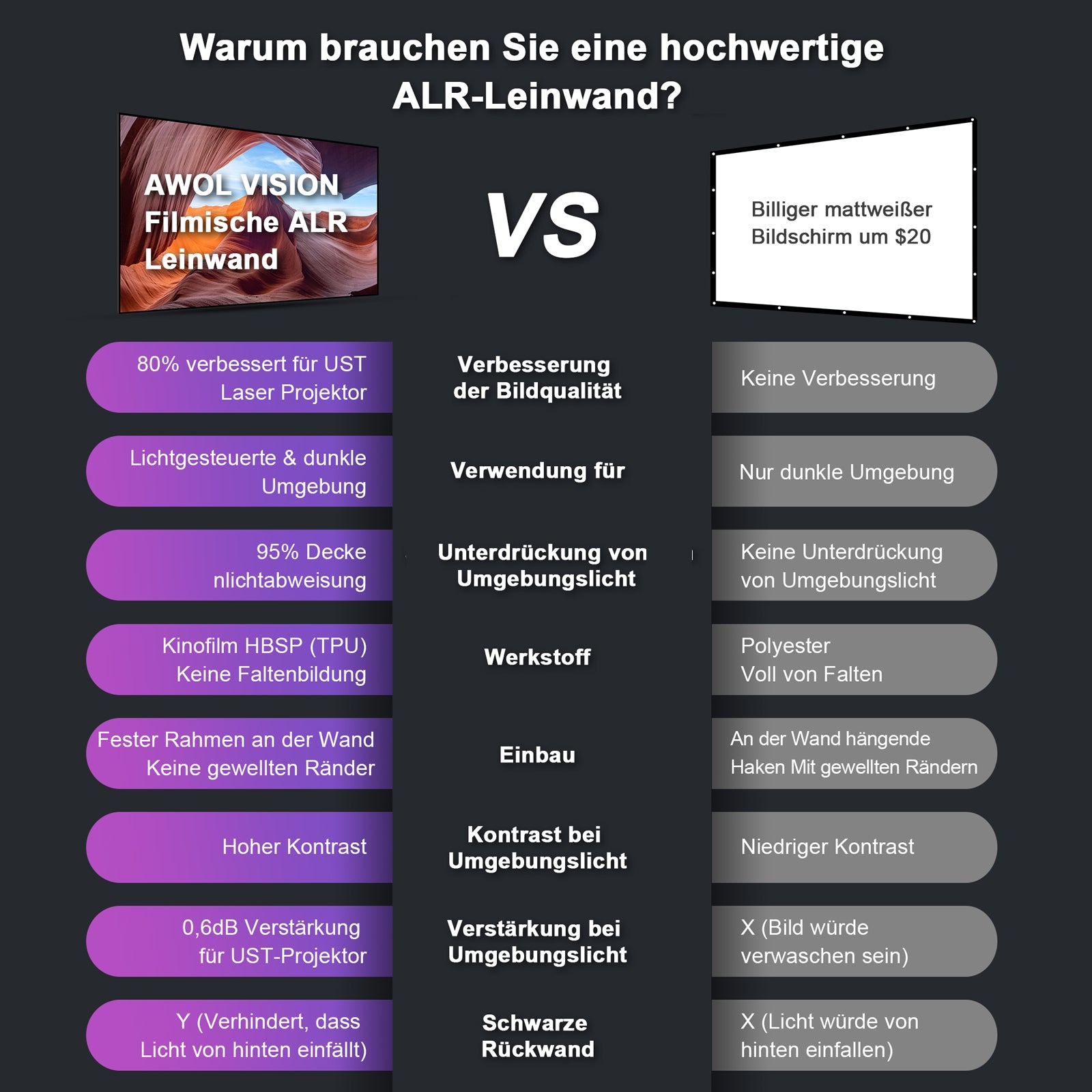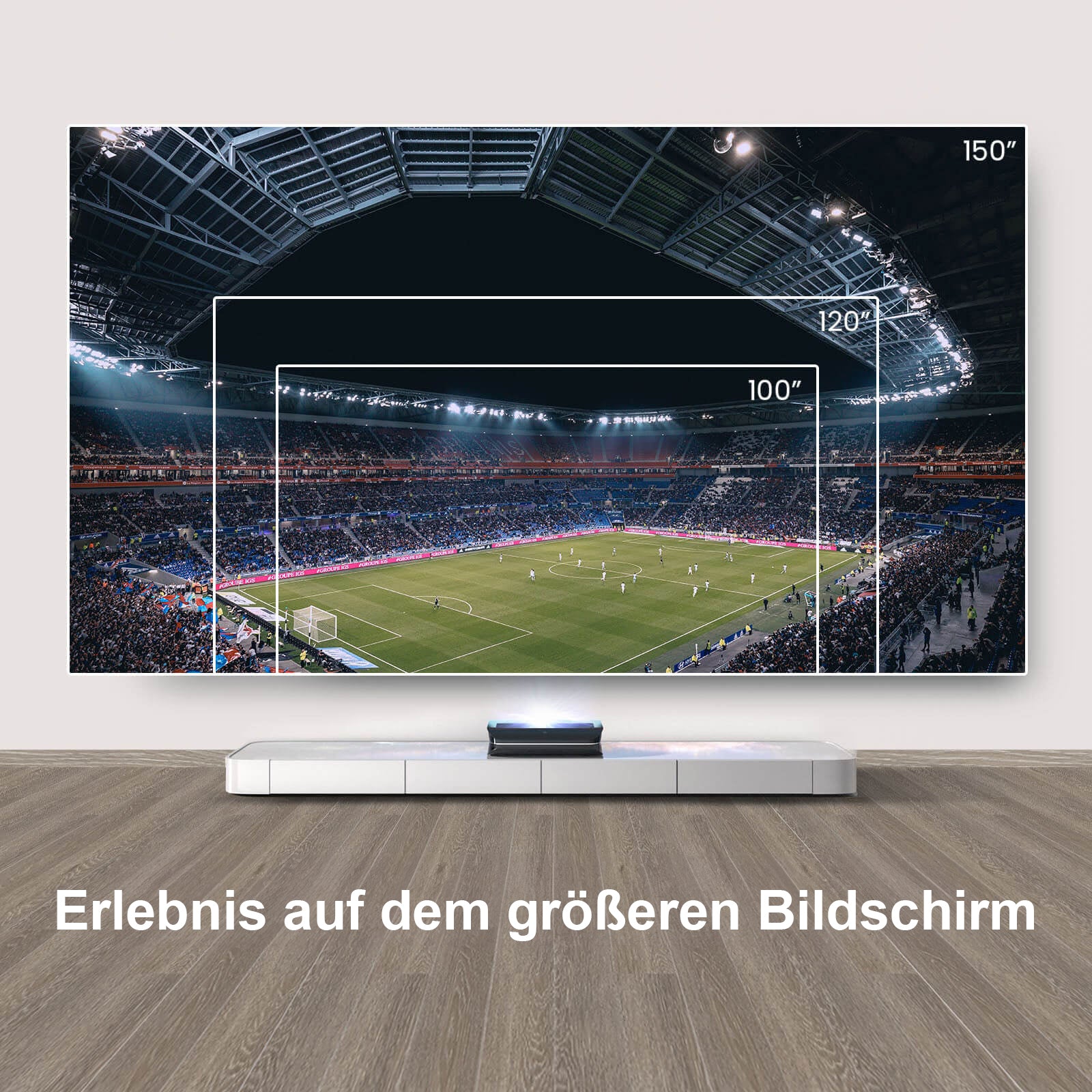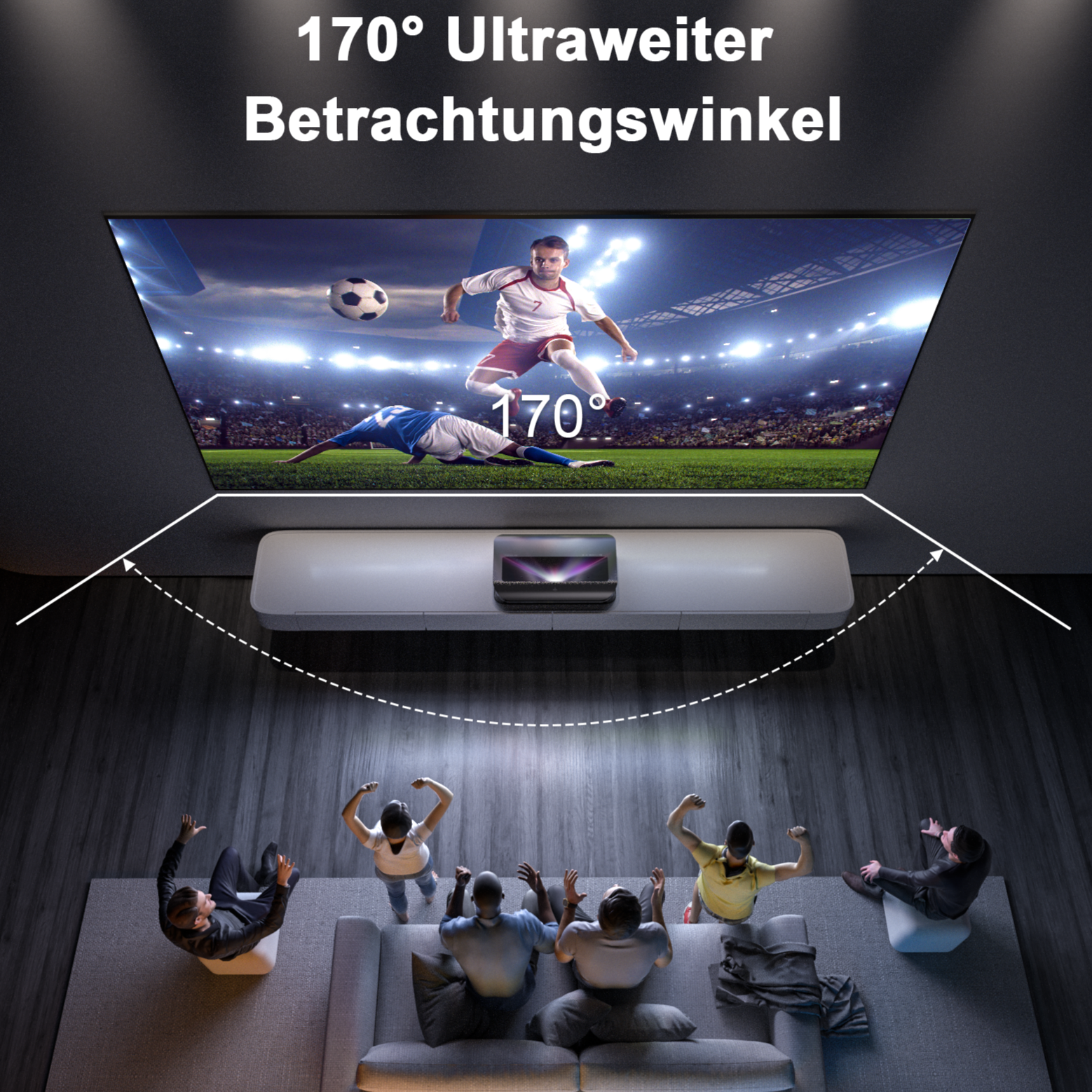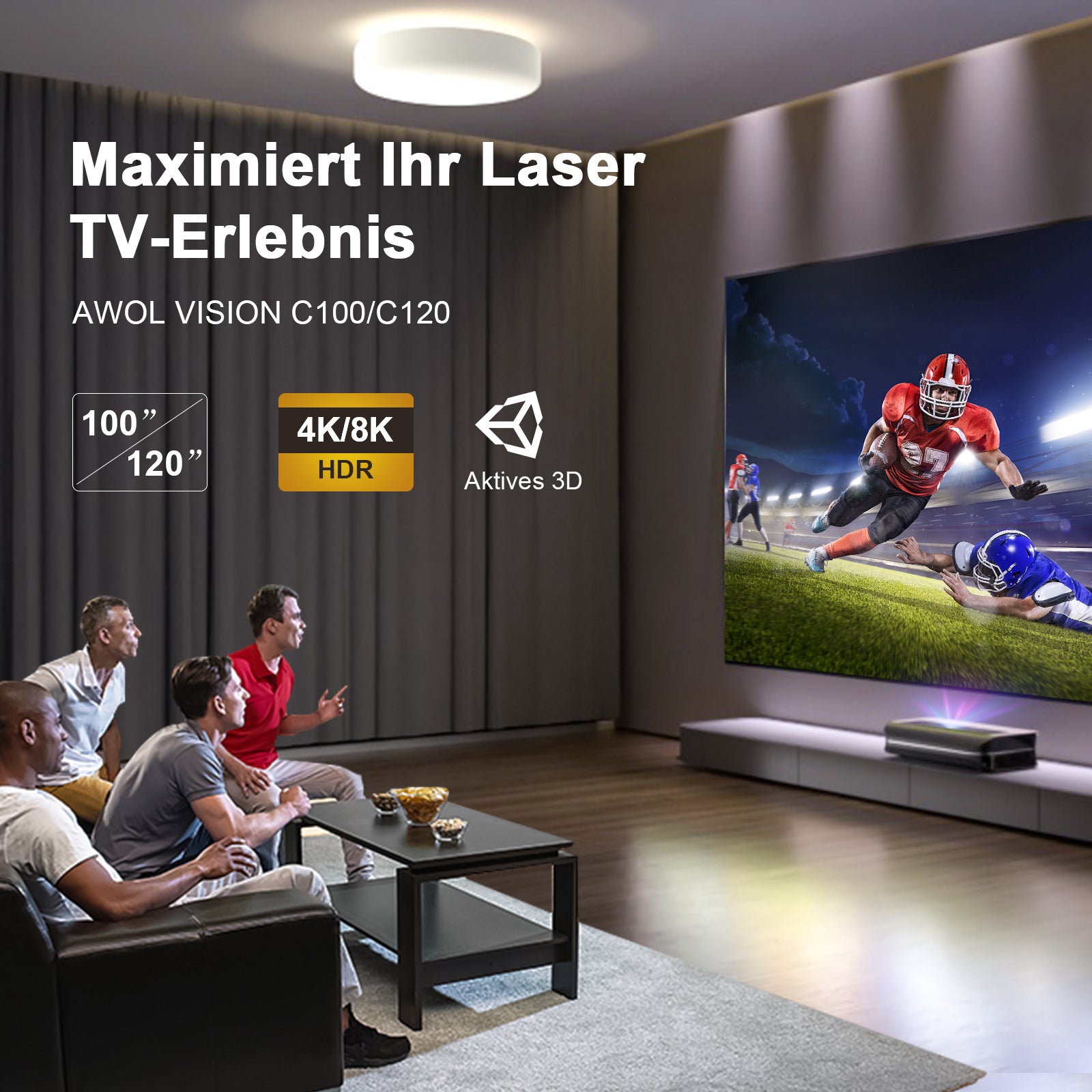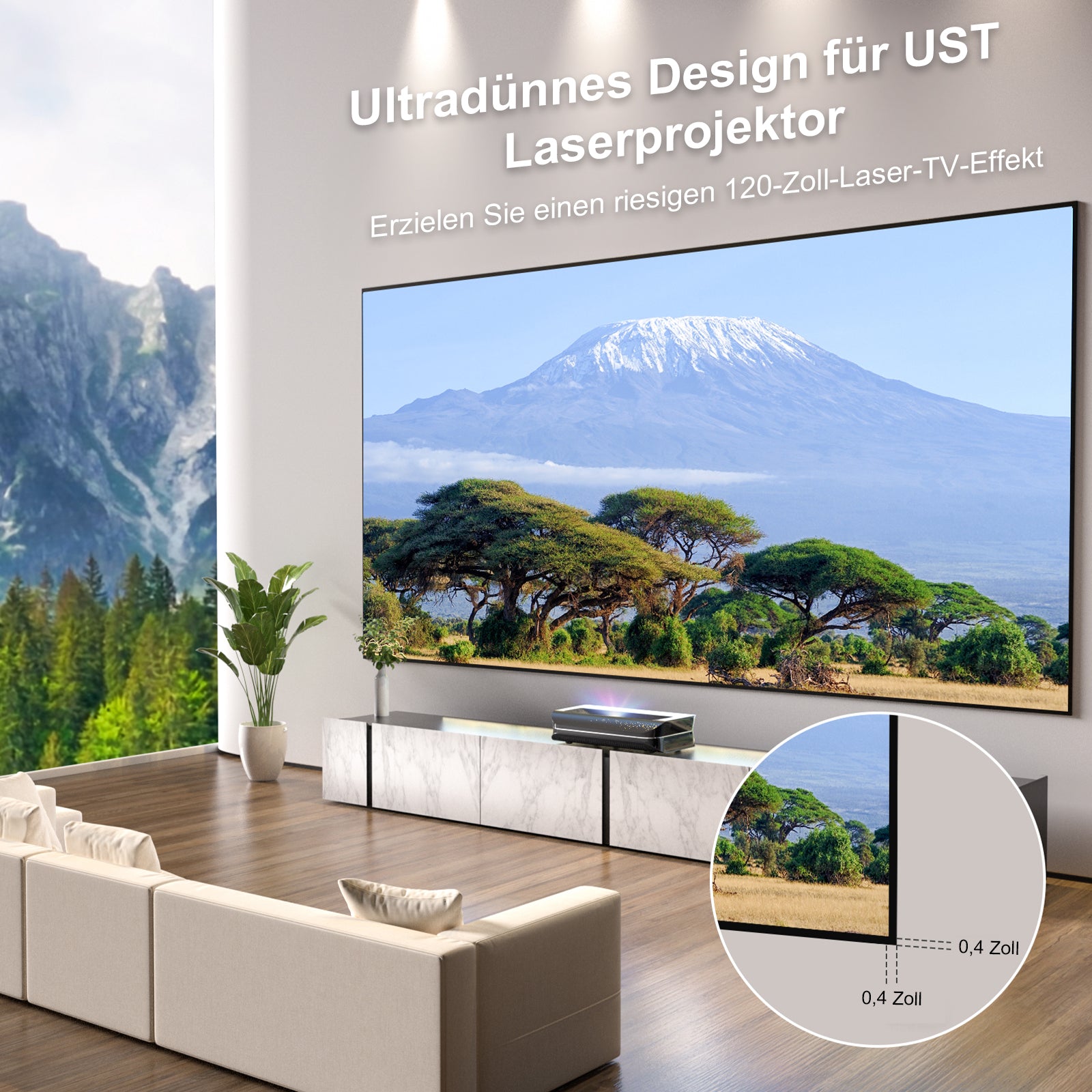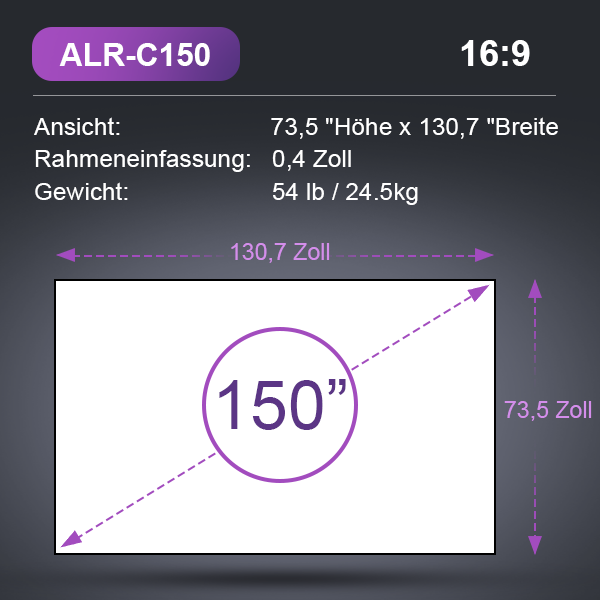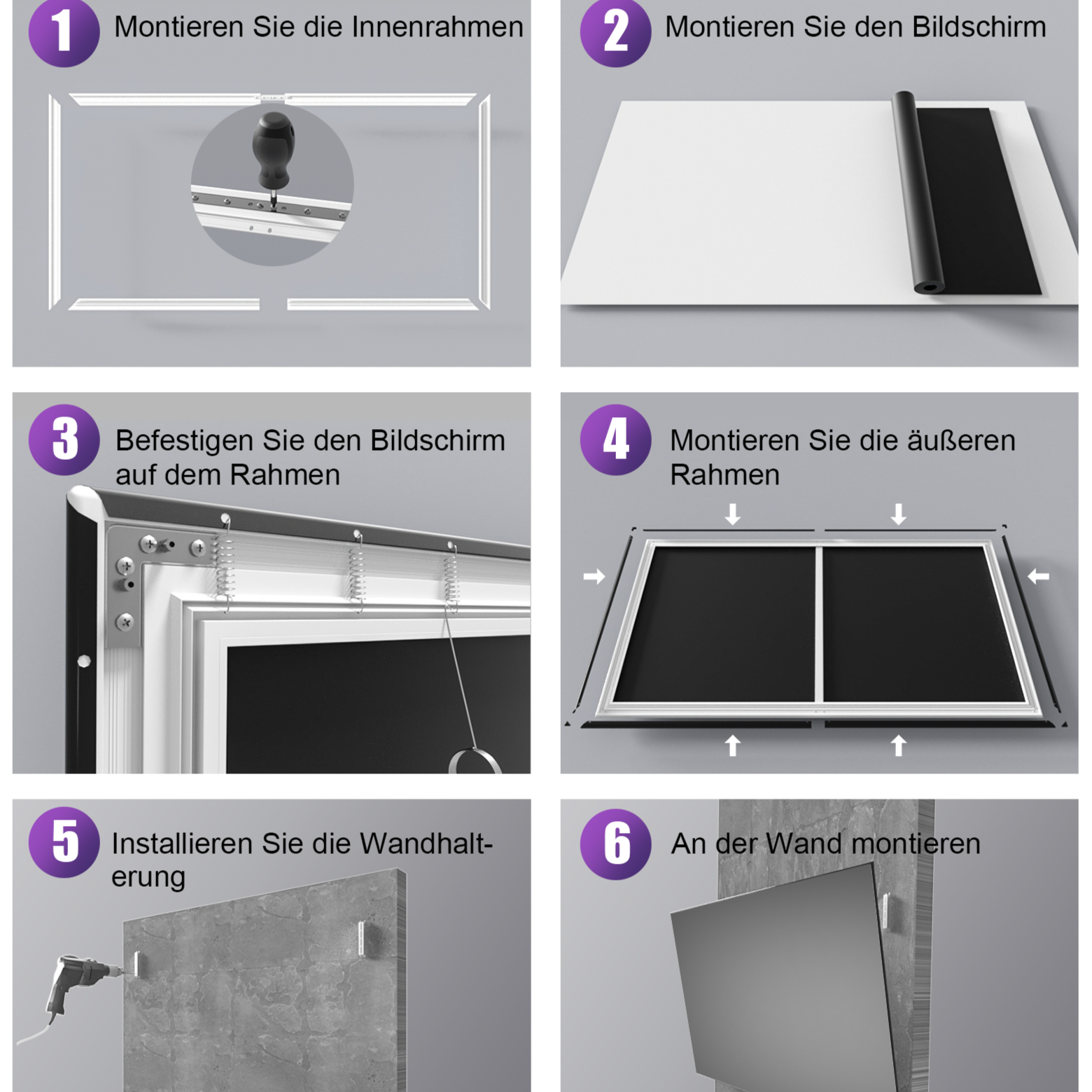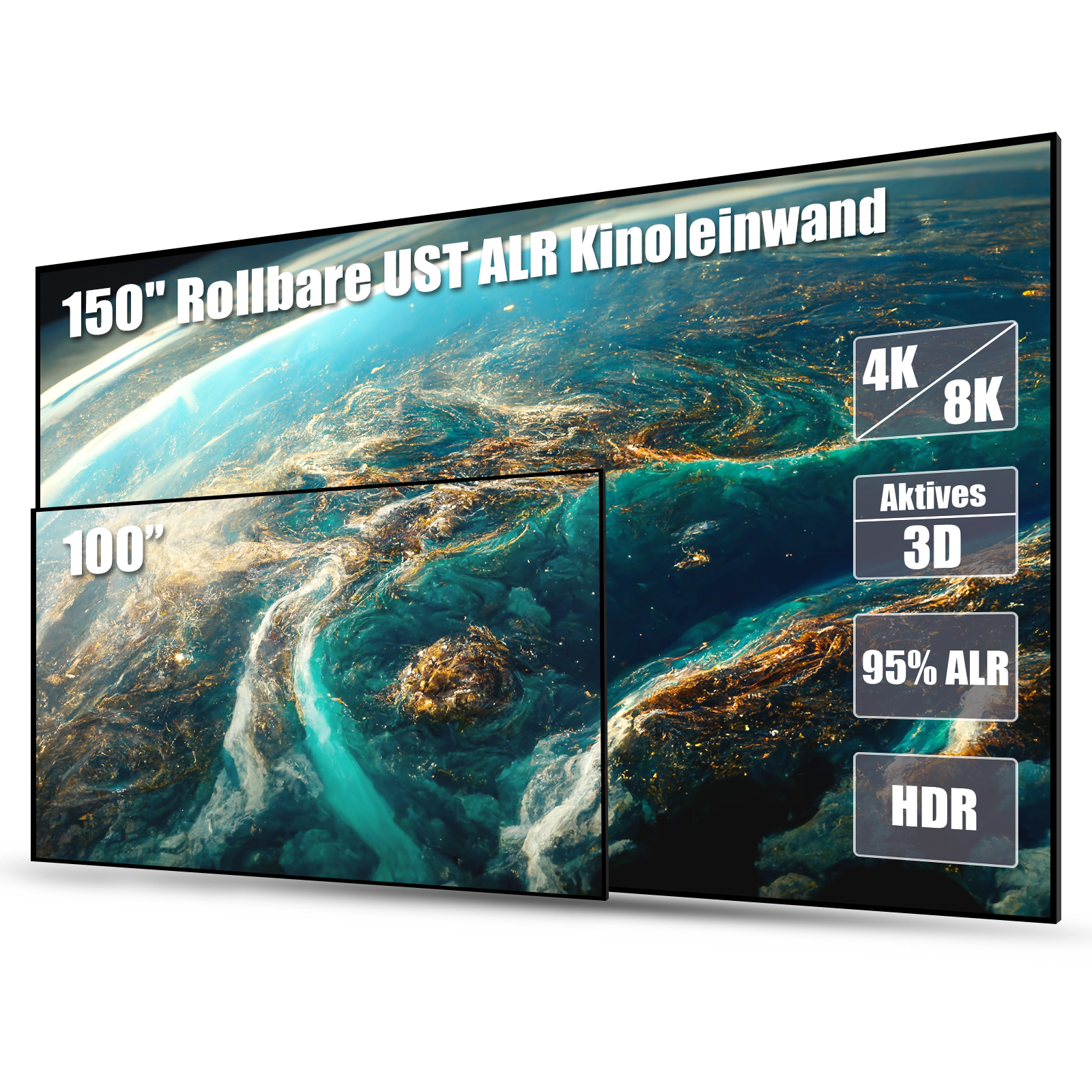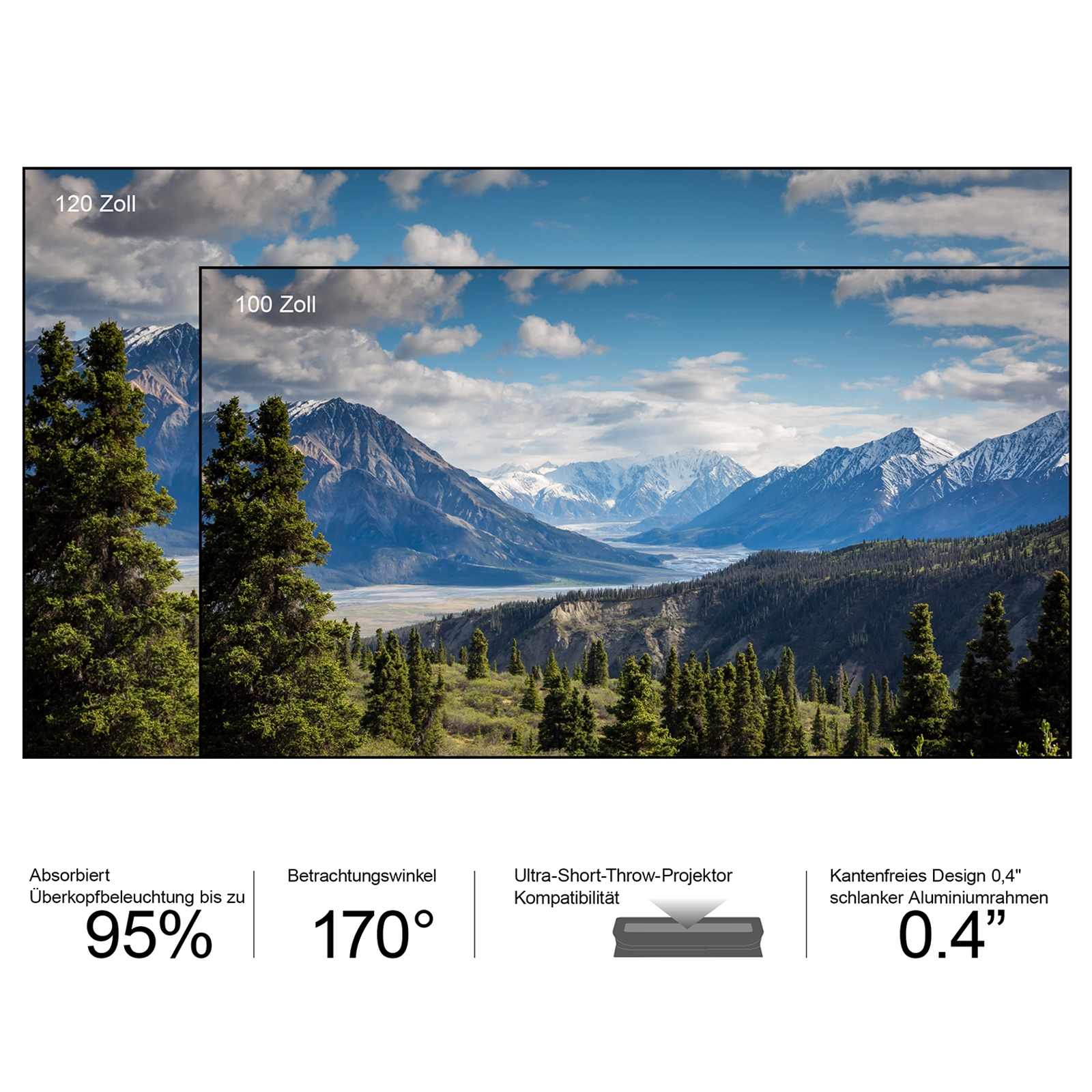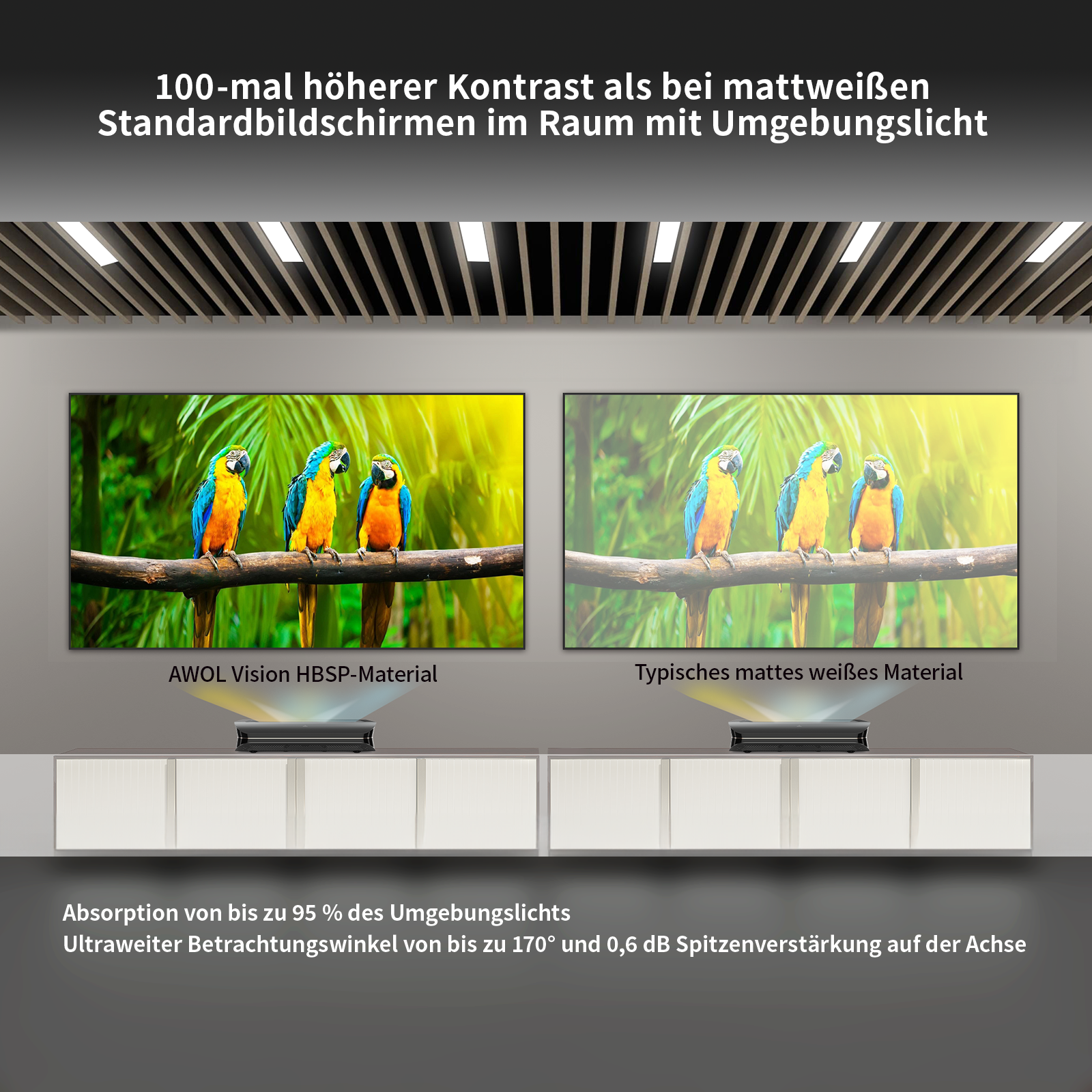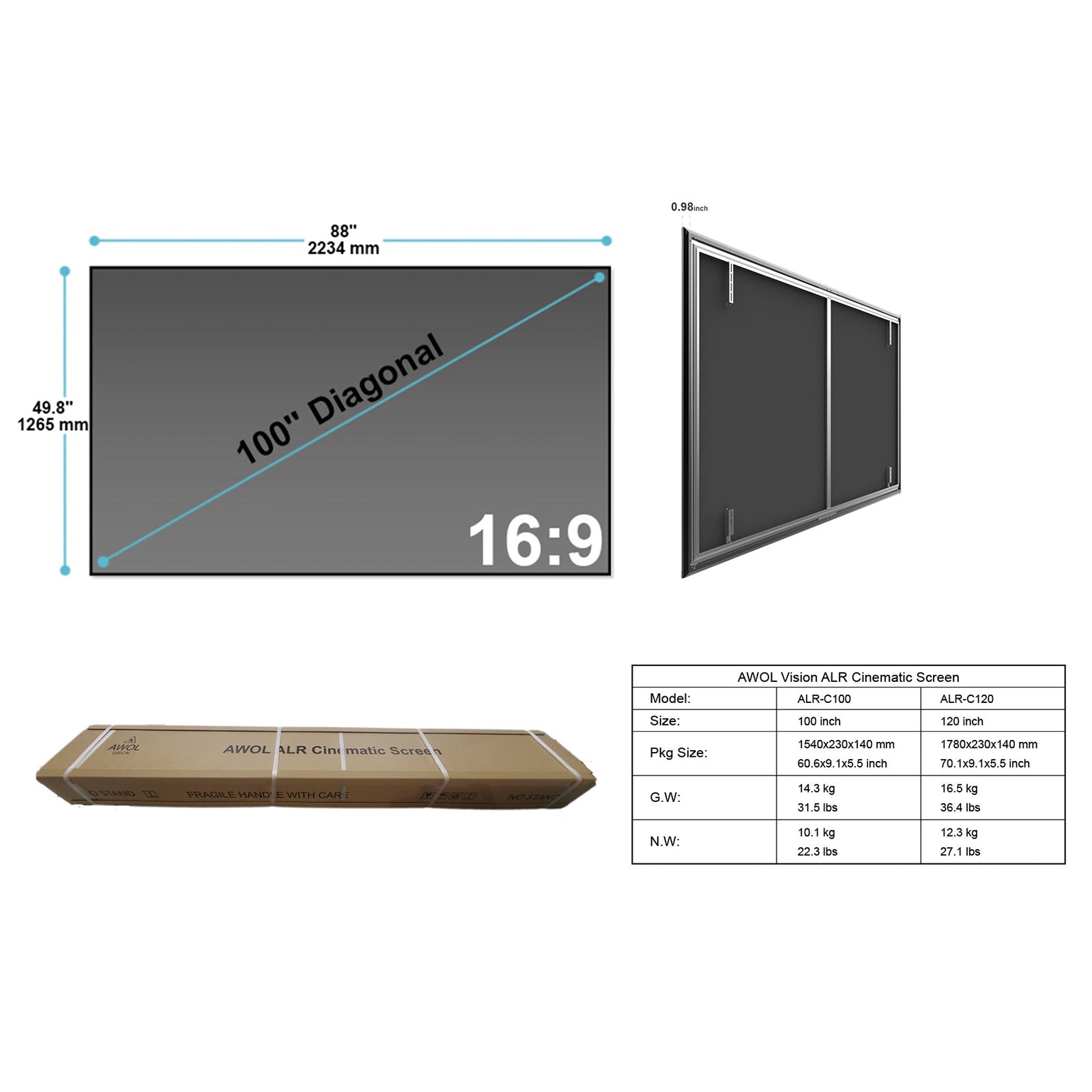 100''-150'' Cinematic ALR Screens
What is an ALR screen?

Combined with a high-quality UST ALR screen, you can significantly improve your viewing experience with a UST laser projector. Their highly reflective projection surfaces increase brightness and contrast while counteracting the cancellation effect of ambient light. It is perfect for rooms with ambient light such as ceiling lamps or spotlights.

Why choose Awol Vision?

Our UST C100/C120/C150 ALR cinema screen can effectively resist the effects of ambient light by rejecting ceiling light by 95%, improving picture quality by 80% and increasing peak gain by 20%. It offers contrast up to 100 times higher than standard matte white screens and ensures first-class color fidelity.
| | | |
| --- | --- | --- |
| The ceiling light-repellent material absorbs 95% of the ceiling light. The micro-toothed optical structure on the surface filters out the ceiling light and thus ensures excellent image quality. | With a 170° wide angle, you can enjoy bright, vivid and clear images of your best movies, presentations and photos no matter where you are in the room. | AWOL VISION cinematic ALR screen uses the latest Optimized Lenticular Material (HBSP) based on the CBSP material to achieve higher contrast, achieving an additional gain of 20% compared to the normal CBSP ALR screen on the market. Image quality has been improved by 80%. |
An ordinary matte white screen has no ambient light-repellent properties and scatters light evenly in all directions. The AWOL VISION ALR screen has a peak gain of 0.6dB, ideal for UST projection to eliminate hotspots and ambient light and provide deep, dark black levels and improved image contrast in a theater-quality image.

Screen parameters


Aspect ratio: 16:9
Size: 150"
View size: 130.7" (width) x73.5" (height)
Package Weight: 68.5 lbs/31.1kg
Frame width: 0.4"


US CUSTOMER SUPPORT
Telephone and email

American Service: AWOL VISION is based in the USA and offers 24/7 customer support and local maintenance. Telephone and live chat assistant are available.

Most frequently asked questions and answers

How do I choose between C100/C120/C150 and D100 from AWOL VISION?

C100/C120/C150 film screen has the main feature of ceiling light suppression, it cannot suppress light from the sides. If you use a UST projector in an environment with controlled ambient light, such as living room/bedroom with ceiling lamp or spot light from above, or without strong bright light from the sides in the day, then C100/C120/C150 will give you the best viewing experience. The contrast, ceiling light rejection and viewing angle are all better than the D100 daylight screen.

The D100 ALR daylight screen can reject both side and overhead light, meaning you can use it day or night. If you want a 100" TV experience even during the day when bright light shines into your living room, the D100 is the best choice for you. When paired with our brightest projector, LTV-3500 UST, the D100 can give you a completely immersive experience throughout the day Bring a new cinema experience into your home.

Is the AWOL VISION ALR screen also compatible with other ultra-short throw laser projectors?

Yes, you can use our ALR screen with all UST projectors.

Is ALR screen a must for UST projection?

You can project onto a flat wall or a matte white screen. However, we strongly recommend that you use an ultra-short throw screen with ambient light cancellation to maximize your viewing experience. Image quality is improved by 80% and you don't have to worry about the effects of ambient light.

Do you have a customer support team?

Yes. Customer support is available 24/7 via email, chat and telephone. Customer support is located in FL. You can use FB or live chat on our website, or call us.

Can I install the ALR screen myself?

Yes, you can install it yourself as described in the user manual or installation guide video. Expect it to take 2 people 1-2 hours to set up the screen.

Why does the screen appear abnormal and very dark?

NOTE: The screen has a difference in up and down direction, read the installation instructions carefully and make sure the screen is installed in the correct direction.

What are the advantages of the AWOL ALR Cinematic screen compared to other manufacturers?

The gain and contrast of the screen is a seesaw, high gain brings low contrast. The AWOL Vision Ambient Light Rejection Cinematic Screen is designed with a high-contrast TPU HBSP material to achieve high gain without sacrificing contrast, enabling contrast 100 times higher than standard matte white screens.
100" daylight ALR screen
100" Cinematic ALR Screen
120" Cinematic ALR Screen
3500 lumens UST projector
LTV2500 lumens UST projector
LTV2500 & C120
Model

ALR-D100

ALR-C100

ALR-C120

LTV-3500

LTV-2500

LTV-2500&ALR-C120
Image size
100 inches
100 inches
120 inches
80-150 inches
80-150 inches
120 inches
material
Fresnel PET
HBSP black grid TPU
HBSP black grid TPU

Peak reinforcement on the axle

1.1dB

0.6dB

0.6dB

Resistance to ambient light
85% top and side light
95% ceiling light
95% ceiling light

Viewing angle

90°

170°

170°

Contrast versus matt white (illuminated environment)
75 times
100 times
100 times

Projection ratio

16:9

16:9

16:9

Dimensions
88*49.8*1.0 inches
2234*1265*25mm
88*49.8*1.0 inches
2234*1265*25mm
105.4*60*1.0 inches
2676*1514*25mm
23.6*13.9*5.7 inches
599*353*145mm
23.6*13.9*5.7 inches
599*353*145mm
23.6*13.9*5.7 inches
105.4*60*1.0 inches